Growing Roots
Professional Integrative Health Education
Live & Distance Learning Continuing Education Classes
We currently offer live student CE courses and have been recently approved for webinar classes which will begin in summer of 2023. Our current CE programs include:
Hands & Hearts in Action: Massage for U.S. Veterans
Massage for the Perinatal Patient
Massage for Those Living with Obesity
Supplemental CE classes
Educational Partners and Hosts Connection
We provide CE classes, guest lectures, & presentations for AMTA State Chapters, massage education programs, nursing associations, and other education collaborators. Feel free to connect so we can chat.
Massage Student Connection
We'd love to connect with massage therapy students! Our Connect with a Clinician web chat sessions with Nicole Miller focus on clinical massage. These are free and intended to inspire & inform future clinicians. Limited spots available.
Continuing education for massage & physical therapists
Crouse Health and Nicole Miller created a continuing education program in 2012, offering CE classes to massage therapists & physical therapists. Our classes include instruction from professionals such as Dr. Kelly Meyers and Ann Canastra, M.S.W. After taking a COVID pause, we are now resuming our Veterans, perinatal, and other clinical based education classes. Our CE program is approved by NCBTMB (massage therapy) and New York State Office of Professions (physical therapy).
Continuing education for other allied health professions.
Allied professionals that attend and complete our classes and requirements, will receive a Certificate of Attendance, rather than a CE Certificate. Allied Health professionals included acupuncturists, nurses, integrative health providers, and more. You are encouraged to research class eligibility for CE requirements as identified by your authorized CE governing body (state, professional organization, etc.). We strongly recommend you seek prior approval before attending the class.
Professional Education for Integrative Health professionals
Integrative Health providers that do not require CEs are welcome to attend or take appropriate program classes. Please contact us to determine if you are eligible to attend. After you attend and complete the class you will receive a Certificate of Attendance, rather than a CE certificate.

Examples include the Suicide Awareness class we offered to local providers a few years ago.
Post-Class Support & Connections for Professional Participants

We offer support via various platforms including social media, newsletters, and on line community learning platform.

Any professional education student past or present, is eligible to participate in our on-line Integrative Health Care Provider Community, of which we provide additional information and support that correlates with learning and material presented in class.

We also host experiential based community learning experiences, connecting providers to patients in the community.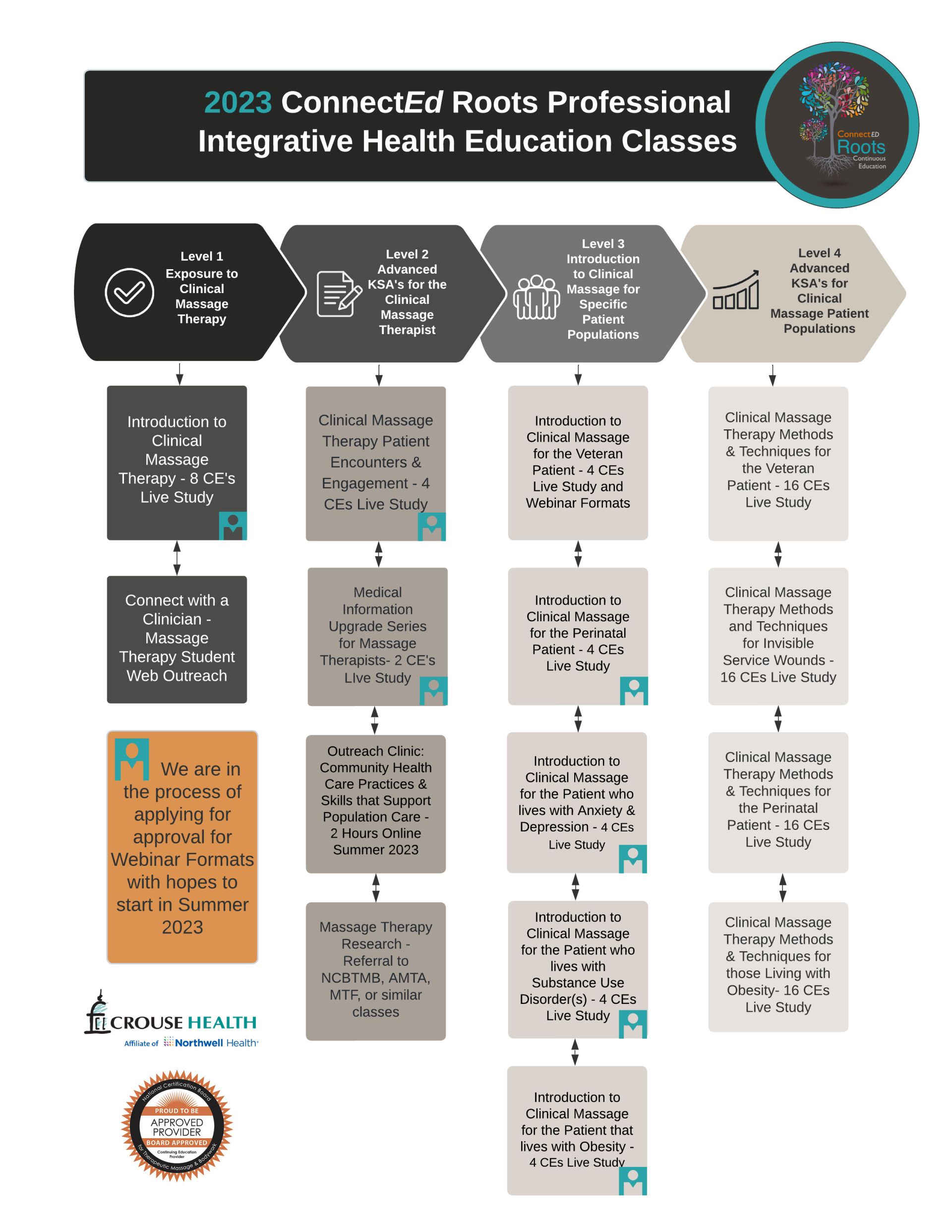 Our Massage Therapy Education Programs
The Massage CE Education Program our Hands & Hearts in Action and You Are Not Along community projects as well as programs for other patient populations. Projects include CE classes for providers, community based learning experiences, and outreach initiatives. Programs include population-specific classes & learning.
UPCOMING EDUCATIONAL EVENTS
AMTA Illinois
March 25 - 26, 2023
Clinical Massage Therapy Methods & Techniques for the Veteran Patient 16 CEs
AMTA New York
May 5 - 7, 2023
CE Classes focusing on Clinical Massage and specific patient populations
CE Immersion Class
Classes include Clinical Massage Therapy Methods & Techniques for the Veteran Patient 16 CEs & Invisible Service Wounds 16 CEs Class. This probram will be held at Clear Path for Veterans and is for both Veteran and civilian massage therapists
Clear Path For Veterans
April 29, 2023
Women's education event focusing on all areas of health & wellness.
Be The RedWoods: Seminar

Clear Path for Veterans May 12, 2023
Parrt of the Be the Redwoods Series, this class focuses on Introduction to Aromatherapy.
Clear Path for Veterans June 9, 2023
Part 3 of the Be the Redwoods Series, this class focuses on Contemplative Therapies
Current Distance Learning Classes

\Learnworlds\Codeneurons\Pages\ZoneRenderers\CourseCards
Clinical Massage Therapy Methods & Techniques for the Veteran Patient
Description: The Clinical Massage Therapy Methods & Techniques for the Veteran Patient class is designed to prepare massage therapists as clinical participants in the Continuum of Care for Veteran patients. Participants will be provided with massage methods and treatment options that address pain and common service-related injuries. Topics include elements of treatment protocols, therapeutic interventions, and episodes of crisis skills. This class is a higher-level learning class that augments the learning from our program's introductory-level classes, such as Introduction to Clinical Massage for Veteran Patient. Crisis Episode Warning: This class includes content, graphics, and references to psychological trauma and injuries.
Goals/Learning Objectives:
Participants will identify major service-related injuries, medical conditions, disorders, and illnesses.
Participants will interpret massage therapy's capacity for care while designing treatment plans.
Participants will prepare individualized treatment plans for Veteran patients in support of the Continuum of Care Model.
Participants will implement clinical massage methods and techniques for pain and common service-related injuries in the low back, upper back, legs, shoulders, and cervical areas.
Participants will practice the professional skills required while responding to a patient's episode of psychological crisis.
Participants will prepare for additional, patient-specific, clinical massage classes dedicated to methods & techniques provided by NCBTMB, AMTA, FSMTB, ABMP, or similar approved providers.
Created with