Hands & in Hearts
in Action Project

Veterans & Family
Members Served
in Pro Bono Services and Donations to Clear Path for Veterans & other Veteran Service Organizations
Years of Education & Outreach
"To care for him who shall have borne the battle and for his widow, and his orphan."
Abraham Lincoln
VA Motto
Welcome to the Hands & Hearts in Action CE Education & Community Outreach Project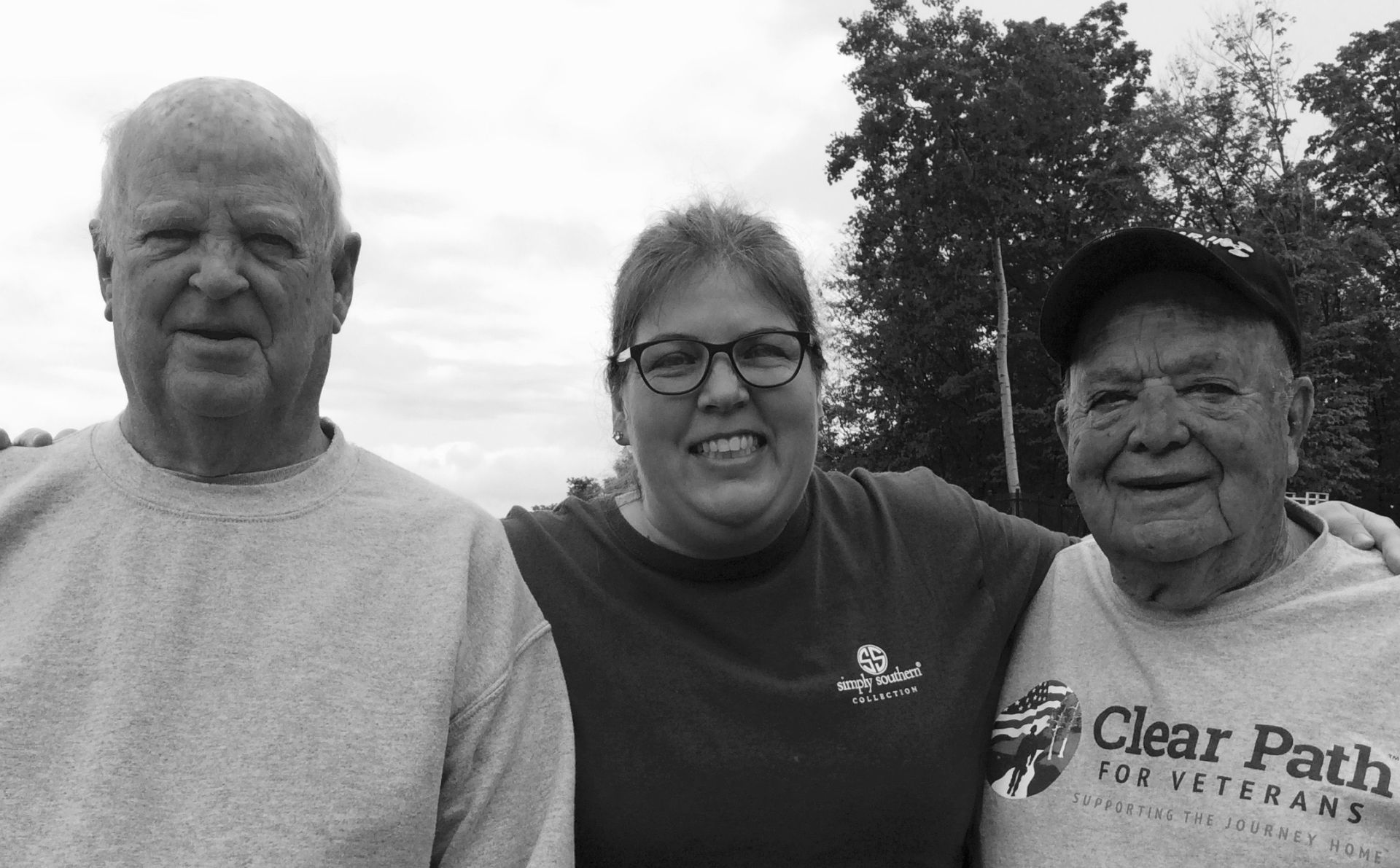 We are glad you are interested in joining our effort. This page provides a small snapshot of the volume of effort provided since 2013, by profoundly compassionate people and organizations dedicated to serving Those Who Served. Honoring a Team-Based Care Model, this project serves as an intersection between Integrative Medical providers, especially massage therapists, Veteran service organizations, Veterans, family members, and Veteran clinical health care providers. We use tools such as CE education, community health education, awareness, and outreach as the links between all who are involved. We invite you to learn more, and we welcome your support.
Nicole Miller, M.S., L.M.T.
Creator of Hands & Hearts
in
Action Project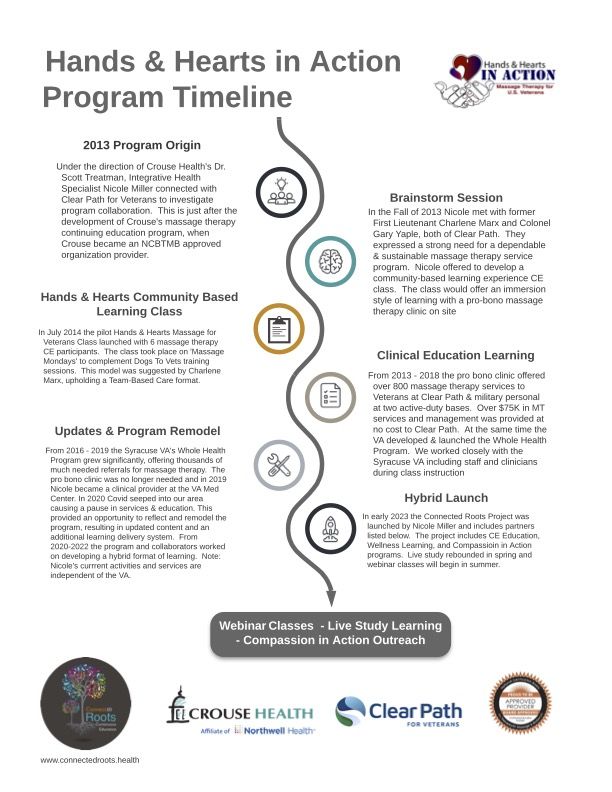 Announcing
2023 Warrior Hands

Warrior Hands 2023
Immersion Education Program for Veteran and civilian massage therapists.
32 Massage CE Classes Included:
May 20- 21: Clinical Massage Therapy Methods & Techniques for the Veteran Patient
16 CEs

May 22 - 23: Clinical Massage Therapy Methods and Techniques for Invisible Service Wounds
16 CEs

Both classes are approved by NCBTMB including NY massage therapists.
Immersion Learning
This class takes place at our project partner, Clear Path for Veterans, in Chittenango, NY. Clear Path is a Veteran Service Organization dedicated to helping Veterans transition home. Participating instructors include Clear Path Staff and staff from the local VA such as Ann Canastra, M.S.W. from the Behavioral Health Unit. Participating Veteran and civilian massage therapists will absorb Veteran culture and develop a memory that will last a life time.
Costs
Class Fees: Massage therapists who are Veterans can attend the class at no cost. The cost for civilian massage therapists is $475.00 for both classes. Note: Classes typically cost $299 each.

Hotel Expenses: Students are responsible for hotel and travel costs. Craftsman Inn in Fayetteville, closest to Clear Path, has graciously offered a rate of $109.00/night for the class. We highly recommend out-of-towners stay here.

Food: Clear Path will provide continental breakfast and lunch daily.
Project Benefits:

Immersion learning offers an amazing experience; Clear Path's setting and hospitality are like no others.
Veteran massage therapists are eligible for a Clear Path Reset Workshop on Wednesday 5/24 with corresponding Canteen.
All participants are welcome to attend Clear Path's Friday Night Fire event on 5/19.
Guest instructors include current clinicians and veteran support specialists. A special visit from Clear Path's Canine program is likely!
Nicole Miller donates all instructional time, any remaining funds collected by civilian class fees will be donated to Clear Path's Wellness Program and Canine Programs.
Education & Learning
•Continuing Education
•Peer Groups
•VA Updates
•Conference Presentations
Awareness
•Professional Presentations
•Immersion Programming
•Publicity
•VSO Partnerships

Compassion in Action Outreach
•Warrior Hands Class
•Donations to VSOs
•Support for Family Programs
•Pro Bono Massage for sheltered Veterans in Syracuse
Team Based Care Model
•Interdisciplinary Collaboration
•Clinical Based Education
•Clinician & Veteran Advisement
•Supporting the Continuum of Care

Biopsychosocial Care
• Supporting All Aspects of Health•
•Recognizing the Whole Person
•Conforming to the VA's Whole Health Program
•Adaptive Methods & Techniques
Elastic
•Flexible Program Participation
•Reflective & Current Content
•Adaptable Class Material



Education Guidance
Some folks might wonder which classes should they consider. Based on student feedback, we've learned there are typically four types of patient/client encounter experiences, as identified below. We recommend you first consider which category you envision for your Veteran encounters. Education classes are designed to support massage therapists for each of the encounter types.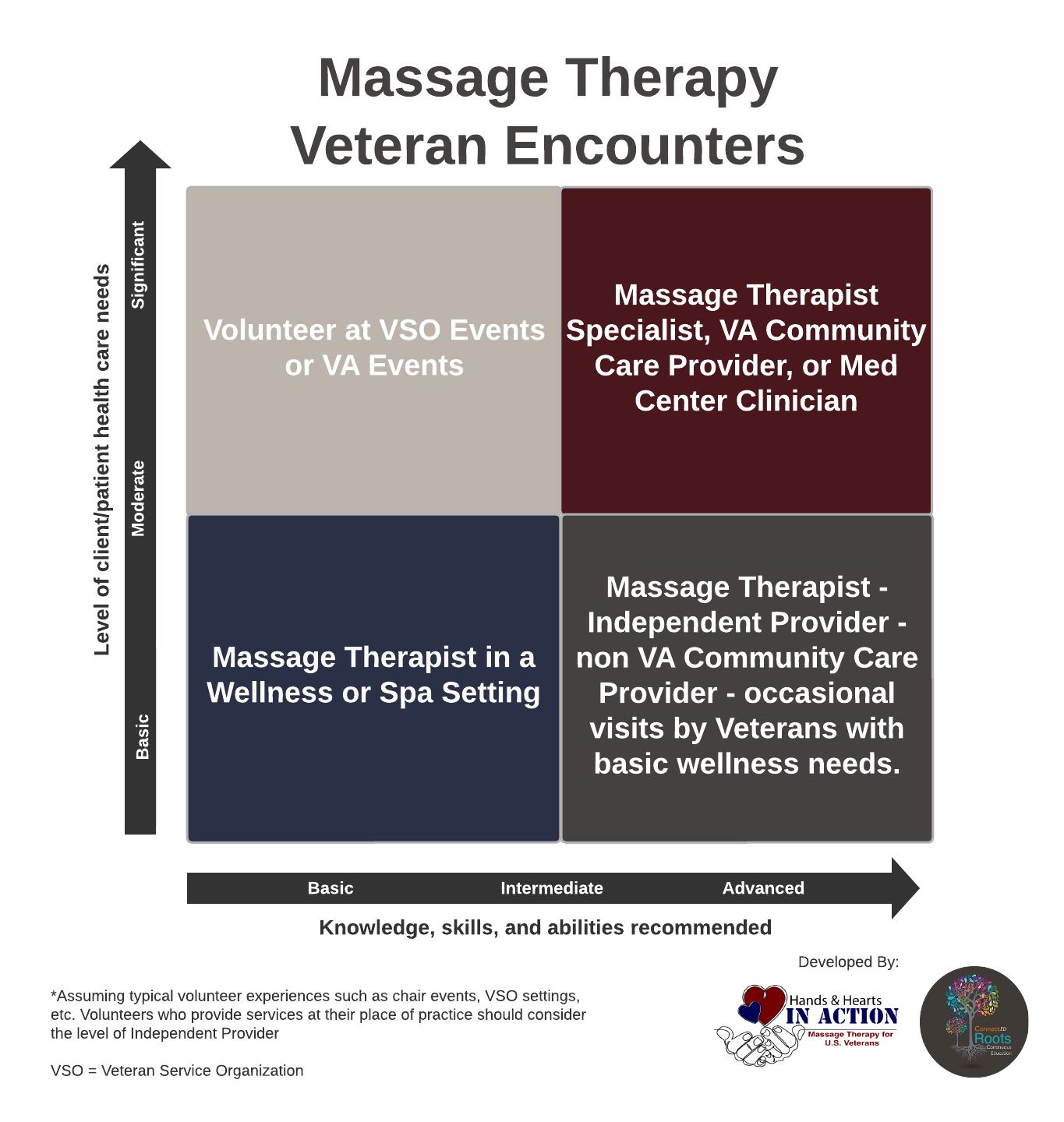 Project
Partners & Participants Include:
Clinical Massage Therapy Methods & Techniques for the Veteran Patient
Description: The Clinical Massage Therapy Methods & Techniques for the Veteran Patient class is designed to prepare massage therapists as clinical participants in the Continuum of Care for Veteran patients. Participants will be provided with massage methods and treatment options that address pain and common service-related injuries. Topics include elements of treatment protocols, therapeutic interventions, and episodes of crisis skills. This class is a higher-level learning class that augments the learning from our program's introductory-level classes, such as Introduction to Clinical Massage for Veteran Patient. Crisis Episode Warning: This class includes content, graphics, and references to psychological trauma and injuries.
Goals/Learning Objectives:
Participants will identify major service-related injuries, medical conditions, disorders, and illnesses.
Participants will interpret massage therapy's capacity for care while designing treatment plans.
Participants will prepare individualized treatment plans for Veteran patients in support of the Continuum of Care Model.
Participants will implement clinical massage methods and techniques for pain and common service-related injuries in the low back, upper back, legs, shoulders, and cervical areas.
Participants will practice the professional skills required while responding to a patient's episode of psychological crisis.
Participants will prepare for additional, patient-specific, clinical massage classes dedicated to methods & techniques provided by NCBTMB, AMTA, FSMTB, ABMP, or similar approved providers.
Created with